Trading of Seismic Explosives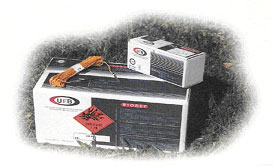 EMULSION EXPLOSIVES - CHARACTERISTICS & APPLICATIONS
Emulsion Explosives are High power aluminised cap sensitive based slurry explosive which are used for geophysical prospecting. Ammonium Nitrate based SISMEC explosives which are majorly traded at SEPL, are highly aluminised cap sensitive Emulsion explosives, packaged in couplable plastic tubing to withstand hydrostatic pressure and its high VOD sends shock waves in the rocks for seismic studies during geophysical prospecting for oil & natural gas exploration. These Individual Plastic Tubes containing SEISMEC explosive is provided with a male & female screw able joint on either side for easy culpability with detonator housing at the top end. Depending on the depth of the hole, nature of strata and the amount of explosive needed, desired number of tubing can be coupled with each other and pushed down the hole.
TRADING OF EMULSION EXPLOSIVES FOR SEISMIC PROJECT AT SEPL
SEPL is one of the Major Seismic Explosives Trading Company wherein different types of seismic explosives with accessories are traded as per the requirement of clients. Majorly SEPL over the years has been providing unparalleled trading services for Seismic Explosives.
Queries, orders or requests for quotes can be faxed to Sukhdev Explosives (P) Ltd.
At +91-261-2321383 / 650 or Email to sukhdev@xplosives.com