Diesel Storage License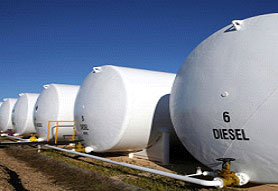 As Diesel storage possesses a potential hazard to life and property, it considered as "dangerous" if handled and managed carelessly and negligently. Therefore, obtain of its License is mandatory to achieve keeping in mind the safe working environment.
SEPL has been offering premium quality services for quick processing of Diesel storage License from Petroleum & Explosives Safety Organization (PESO) to its clients' for the past years. SEPL is proud to employ qualified and experienced professionals to render our services with quality. Customers' needs and specifications are duly kept in mind while providing the service. SEPL helps you to obtain the License without any complications of Rejections or time consuming Appeals.
Need a License for Diesel Storage Click Here.
The SEPL team upon the receipt of your order to apply for Diesel storage license, ensures the prompt and hassle free execution of your important documents, working closely with the Petroleum & Explosives Safety Organization (PESO) and keeps informing the client regarding the status of their application till the successful grant of the same. Team SEPL also takes care to handover the custody of original License to the client and also stands responsible to remind the renewal of their Licenses in reasonable advance notice.
Queries, orders or requests for quotes can be faxed to Sukhdev Explosives (P) Ltd.
At +91-261-2321383 / 650 or Email to sukhdev@xplosives.com