Portable Magazine License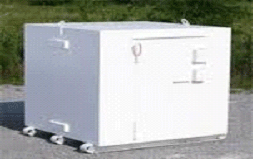 SEPL provides services for "Portable Magazine License" and timely processing of Licenses from Petroleum & Explosives Safety Organization (PESO) for storage of different type of explosives.
SEPL also carries out inspection and audit of the new premises where Portable Magazine is installed for verification/endorsement.
Need a Portable Magazine License? Click here.
SEPL has the specialized team of experts who work closely with Petroleum & Explosive Safety Organization (P.E.S.O) and help its clients to get the License on time from all the concerned authorities. Upon receiving the order for Portable Magazine License, SEPL Team would call the client for necessary documents and starts the Legal procedures without wasting time for the License application and once it is applied, they keep informing the client regarding the status of their License application till the grant of the same. They also take care to handover original License to the client and also stands responsible to its clients to remind the renewal of their Licenses prior to expire or any amendment if required.
Queries, orders or requests for quotes can be faxed to Sukhdev Explosives (P) Ltd.
At +91-261-2321383 / 650 or Email to sukhdev@xplosives.com