Open Cast Mining Works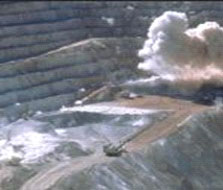 In the world of Open Cast Mining projects, SEPL provides surface expertise and services to the mining industry as well. SEPL provides assistance with opencast mining, rehabilitation, bulk earthworks, plant hire, crushing and screening or road construction. SEPL since the very beginning has boasted a sizeable fleet of apparatus and anything and everything associated with Open Cast Mining. Over the years SEPL has enjoyed a sound working relationship with several well-known companies for their Open Cast Mining Works including Drilling, Blasting and transportation of explosives related to Open Cast Mining works.


Safe working environment
SEPL has always proved itself committed to ensuring a healthy and safe working environment for all employees working on opencast mining, rehabilitation, bulk earthworks, plant hire and road construction operations. The most peculiar aspect of SEPL which differentiates it with other explosive companies is that SEPL allocates Permanent health and safety officers to its larger sites whereas smaller sites are visited regularly by such safety officers in order to assist site managers with the safety, health, environment and quality requirements. SEPL takes all practical steps to ensure the health and safety of our employees and tries to reduce the accidents and losses as much as possible..
Queries, orders or requests for quotes can be faxed to Sukhdev Explosives (P) Ltd.
At +91-261-2321383 / 650 or Email to sukhdev@xplosives.com