Disposal of Explosives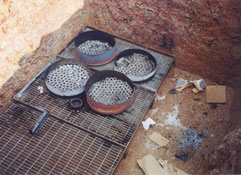 SEPL over the years is very well conversant with the sensitivity and hazards associated to the Disposal of Explosives and the complicated chemical reactions which cause explosions that can potentially cause harm to any user handling explosive materials or life and property as well. 'Disposal of explosives' means their destruction, or rendering them permanently explosively inert.

SEPL provides related services like obtaining disposal permission, coordination with Government Authorities, arrangement of disposal land etc......

There is generally more than one way of destroying an explosive. The method used will depend on the nature of the explosive and its hazards, and the type and position of the disposal site. Anyone disposing of explosives should be aware that they have duties to do so in a way that is not harmful to the environment.
SEPL Providing Services for Disposal of Explosives including arranging of Open Land, Labour, construction of Pit, which also includes Burning, Detonation, dissolving or diluting by appropiate solvents. Dumping at sea (or in landfill) is not, under any circumstances, considered to be a suitable method of disposing of explosives.

Therefore the Explosive Disposal team at SEPL is thoroughly trained and have the experience of years in undertaking various such Explosive Disposal Projects which make SEPL technically very sound and well known in this area too
Queries, orders or requests for quotes can be faxed to Sukhdev Explosives (P) Ltd.
At +91-261-2321383 / 650 or Email to sukhdev@xplosives.com