DX Cartridges Applicator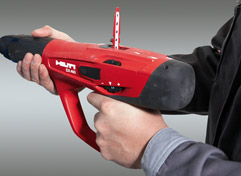 SEPL is proud to be the professional end user of HILTI DX Cartridges which is used for Direct Fastening Technology developed by HILTI, a multinational company providing services/products in Infrastructure Sector. Hilti Direct Fastening is an innovative system that will make a large number of fixings quickly and safely with no need for power supplies or skilled labour. The productivity features are as below:-
Can make in excess of 1000 fixings per day.
Fix into a wide range of base materials including steel and concrete.
Integrates with HILTI positioning systems to save marking out time.
Specialist fasteners available to suit different trades.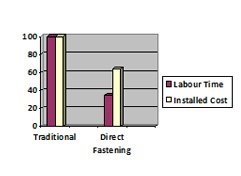 The Hilti difference 65% Savings.
Hilti Direct Fastening (DX) is the ultimate cordless fastening systems designed with productivity in mind. DX fastening methods can reduce labour time by as much as 65% and installation costs by 36%.
What is Direct Fastening?
Direct Fastening means using a powder charge to drive a fixing which can be nail, Stud or specialised fastener into a solid base material. Fixing can be made directly into a base material or in other cases through another material in order to fix it onto the base material. Base material can be steel, concrete or masonry.
Benefits of Direct Fastening
The ability to make direct fixings without the need to drill holes is simple, fast, safe and highly productive. The Hilti DX fastening system can be learned quickly by operatives, to offer a versatile fastening technique. Even in the hardest and thickest based materials, direct fastening can be used.

DX fastening tools are completely self contained requiring only the necessary consumables (Fastener and cartridge) for the tool and the job it is therefore, the ultimate cordless fastening system.

The result is that fixings are made quickly and efficiently, reducing – project time, labour content and instigating overall cost savings.
No Skilled Labour required.
Higher Productivity.
Lower Installation costs.
DX Cartridge Brochure Download
Queries, orders or requests for quotes can be faxed to Sukhdev Explosives (P) Ltd.
At +91-261-2321383 / 650 or Email to sukhdev@xplosives.com