Earth Excavation Works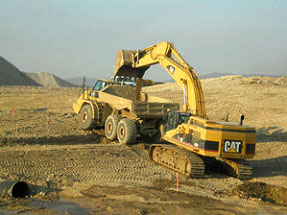 Excavation is the act of digging, often with the use of heavy equipment in the course of site development, earthmoving, or land grading. Excavation is an integral part of new building construction, demolition, site clearing, landscaping, and drainage projects. Excavation is also recognized as being one of the most hazardous construction operations.

SEPL combines the experience and talent of its team to make them the leader in this industry. Our excavation department is no exception. SEPL with its unlimited public works rating specializes in mass excavation, grading, stream restoration, road building, underground utilities and hauling. Equipped with state of the art equipment, strong leadership, knowledgeable workforce and determination to expand its scope of services, SEPL has built the reputation of being a true service provider across the country and the globe.
Queries, orders or requests for quotes can be faxed to Sukhdev Explosives (P) Ltd.
At +91-261-2321383 / 650 or Email to sukhdev@xplosives.com